Should you move to Ada, Michigan? Is Ada a good place to live? When determining what cities are good for your personality, life situation, and personal preferences, there are many factors to consider including climate, cost of living, community, job opportunities, population makeup, activities, and things to do.
Let's take a trip to Ada, Michigan, a lovely town just six miles from Grand Rapids. Ada sits where the Grand River and Thornapple River meet, offering a mix of history, nature, and a welcoming community.
A Peek into the Past
Ada started way back in 1821 as a fur trading spot and grew into Kent County's first settlement. Its name comes from Ada Smith, the daughter of the postmaster. Amway Corporation, now known as Eltacore, played a big role in putting Ada on the map.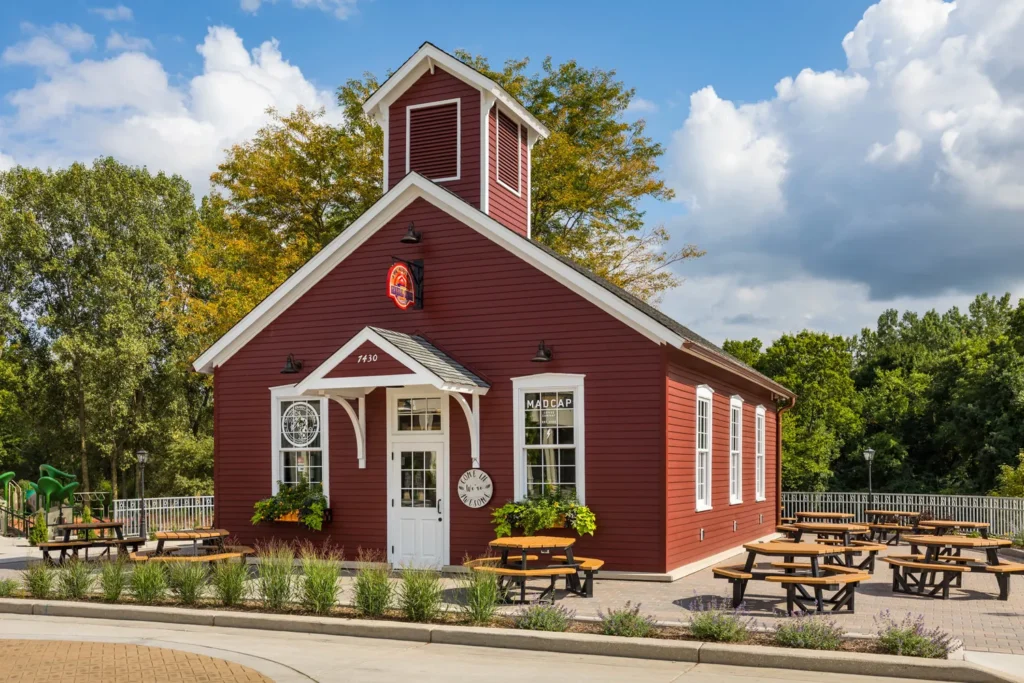 Good Food, Great Atmosphere
In Ada's downtown area, you'll find charming buildings and small shops, making it a cozy place. Food lovers will enjoy a mix of American, Asian, and Mediterranean cuisines. Favorite restaurants include Schnitz Ada Grill, Sultan Turkish Restaurant, the Farmers Market in the village, and more. Don't miss Scooper's Ice Cream Shop for a sweet treat!
Ada's Growing and Changing
Ada has been growing and changing to offer more to its residents and visitors. The new Ada Village is expanding to have more shops and places to eat. They're also making it easier to walk around and enjoy the river. It's all about making Ada a great place to visit and live. The businesses here truly care for one another and that is what makes this city thrive.
Keeping History Alive
Even with the changes, Ada keeps its history close. The Ada Covered Bridge, built in 1867 and rebuilt after a fire in 1979, is a special landmark. The town preserves old buildings like the Ada Hotel and the original Ada Village general store and schoolhouse, giving a nod to its past. Recently, more artists have been installing their artwork throughout the village. See what you will discover when you visit!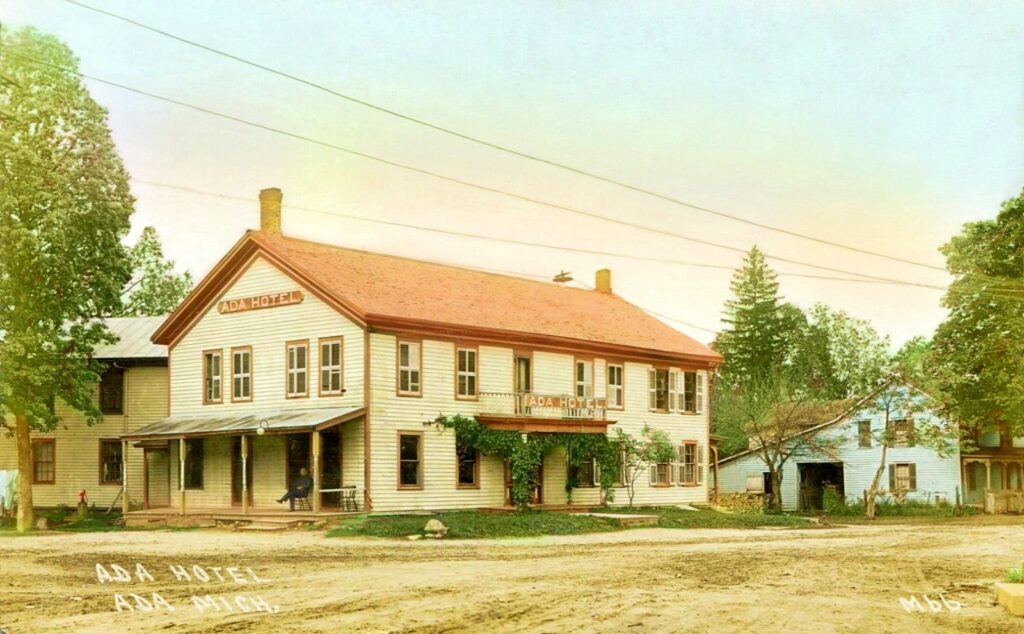 Lots of Fun Things to Do
Throughout the year, Ada hosts events for everyone to enjoy. Very family-friendly, farm-to-table type vibes. From food festivals to races, there's always something happening. Just Facebook the Ada Business Association or Ada Downtown to get all your info.
Check out these upcoming events happening around the town:
Parking lots of Ada Christian School & Ada Congregational Church
October 21, 8:00 am – 2:30 pm
Ada Village Farmers Market
The Community Church (7239 Thornapple River Dr SE)
October 24, Open Tuesdays, 9 am – 2 pm
Begin on June 6th and run through Tuesday, October 31st. 
Trunk or Treat with Keller Williams Grand Rapids East
1555 Arboretum Dr SE, Grand Rapids, MI 49546
October 26, 6:00 pm – 8:00 pm
PAWS for Happy Hour with Broadway Grand Rapids
MudPenny 496 Ada Dr SE Ada, MI 49301
October 25, 5:00 pm – 7:00 am
River St and throughout Ada Village
October 27, 5:00 pm – 8:00 pm
Halloween at Fire Station #1
Fire Station #1 6990 E Fulton, Ada, MI 49301
October 31, 5:30pm
Forest Hill Eastern Holiday Expo
Forest Hill Eastern
November 4, 9:00am
The LIMA House Happy Hour
2899 Thornapple River Dr SE
November 8, 4:30 pm – 6:30 pm
CCF's Tributes and Triumphs Awards
Fowling Warehouse
November 15, 6:00 pm
And so much more! Follow us on Downtown Ada to stay in the loop.
Schools and Homes
Ada is a good place to live if you have kids. There are great public schools and also private options like Ada Christian. The homes here are in demand, partly because Ada is close to Grand Rapids and has a mix of old and fancy homes.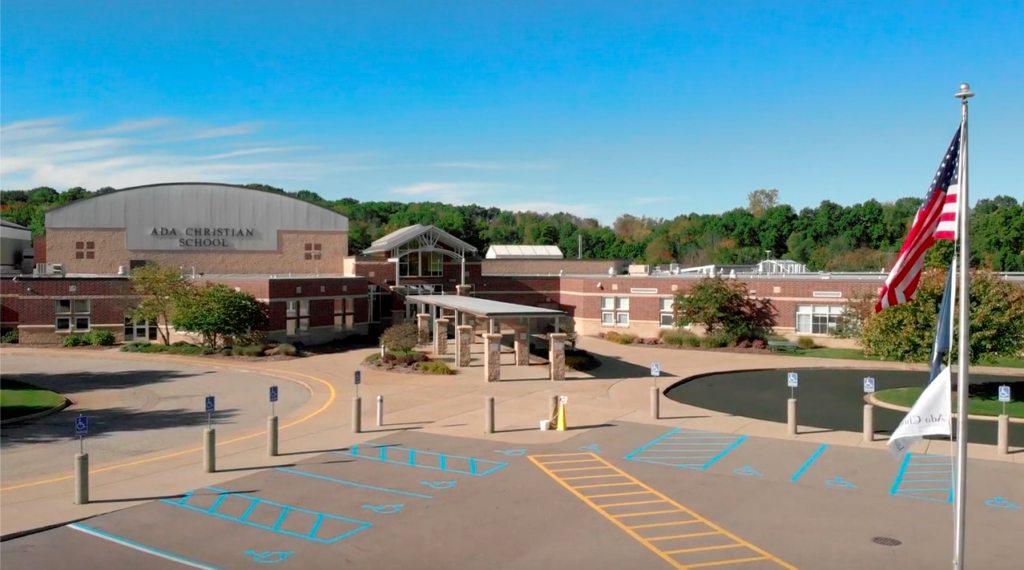 Nature and Fun
Ada is beautiful with lots of trees and two rivers flowing through it. You can go for a run or a walk on the trails, or spend time in the parks. If you like golf, Ada even has a nice country club.
Parks and Recreation
Ada is well-known for its long trails, called Ada Pathways, stretching over 30 miles. These paths are perfect for biking and walking, encouraging people to stay active and enjoy the outdoors. There are also beautiful parks like Legacy Park, Seidman Park, and our personal favorite…Roselle Park! It's wonderful for picnics, hosting an event, rock-climbing wall, hiking, and being close to nature.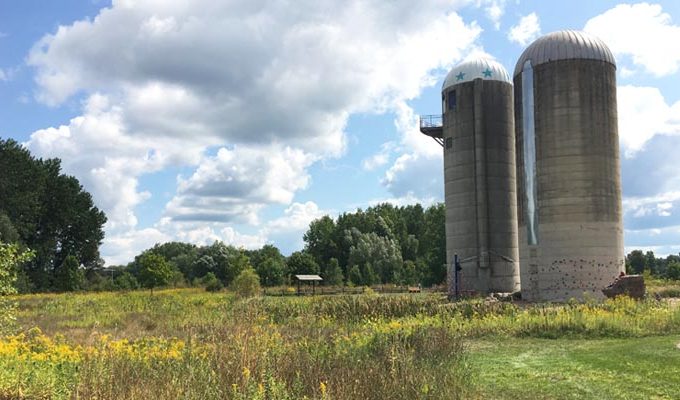 Real Estate in Ada
The village of Ada cherishes its old-fashioned charm while embracing modern touches. Homes here vary from old, historical houses to new condos and townhouses, offering different choices.
Recently, Ada has seen more new buildings going up, like fancy condos, townhouses, and houses near the river. Many people are excited about this, making the housing market in Ada very popular. People like having a mix of old charm and modern living in their homes.
Not just in the village, but Ada Township, which is close by, has bigger areas for houses. It's quieter there, with more space and a countryside feel for those who love peace and nature.
Ada has everything for everyone. Whether you love the old-time charm or the lively present, this village has it all. Stay with us to discover more about Ada's amazing offerings and way of life. See you soon here in Ada!
See what Elissa has to say below! Have questions? Don't forget to comment!