As the festive season approaches, there's a special kind of magic in the air—a magic that comes from giving back and spreading joy to those around us. Whether you've got a few extra hours, a bit of holiday spirit to share, or you're looking for unique ways to make a positive impact, we've got you covered. Here are some heartwarming simple ways to bring a little extra warmth and kindness to others during this joyous time of the year.
Help West Michigan Families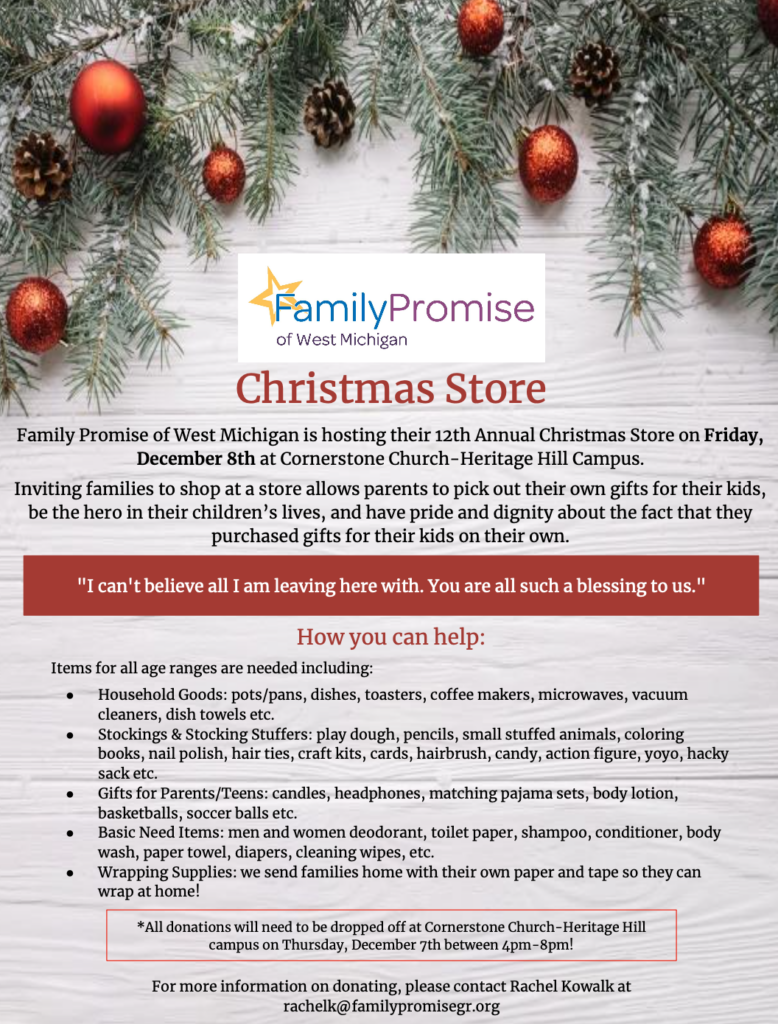 Drop off locations:
Cornerstone Church – 48 Lafayette Ave SE, Grand Rapids, MI
Lucas Howard Group – 4804 Cascade Rd SE, Grand Rapids, MI
Family Promise would love your help in supporting families experiencing homelessness this holiday season! Family Promise hold a "Christmas Store" each year at which the families serve can shop for gifts for their kids and loved ones to ensure they have a Christmas that's merry and bright! Family Promise find this model gives more dignity to the families receiving support, empowering parents to feel like the heroes of their kids' Christmas. To do this, Family Promise rely on help from local families, businesses, churches, and schools to collect all sorts of items to make the day a success! These items are attached to the flyer!
These are just ideas for each category, you're welcome to have fun with it and get other items too! (Family Promise also have a need for sleds if you would be willing to give some sleds too!!)
Gifts would need to be unwrapped so families know what they're selecting from, but you'd be welcome to collect wrapping paper itself to contribute to a family's Christmas fun. Family Promise find that wrapping their kids gifts is an experience parents love to do themselves! Toys are all covered by Forest Hills Central High School, so are all set in that area.
---
Bring Joy to Seniors or Hospital Patients
While many of us are celebrating with loved ones, there are those who might be spending the holidays alone. Let's change that! A visit to a local nursing home or hospital with simple things like decorations or a friendly chat can make a world of difference. Your presence can light up the day for someone who might be feeling a bit lonely.
Host a Fun Online Event
Sometimes, the best way to give back is by bringing people together, even if it's just online! Consider hosting a virtual event—a fundraiser, a holiday-themed quiz night, or a talent show. It's a fantastic way to connect with friends, spread joy, and raise funds for a cause close to your heart, all from the comfort of your own home.
Organize a Neighborhood Cleanup
Gather your neighbors for a quick cleanup of your local park or neighborhood. It's a simple way to give back to the community and create a clean, welcoming environment for everyone to enjoy during the holidays.
As we wrap up, remember, spreading joy doesn't have to be complicated. Whether it's sharing your time, donating toys, bringing smiles to seniors, supporting local businesses, or hosting a virtual gathering, every small effort counts. Let's make this holiday season a time of warmth, kindness, and joy for everyone. Happy giving, and may your holidays be filled with love and laughter! 🎄